Anxiety It's Time To Go – LIVE
2nd September at The Royal Concert Hall Glasgow
So many people suffer Anxiety every day and if allowed it can control every waking moment.
Multi Award winning anxiety therapist and creator of the hugely popular Anxiety HIT therapy Kevin Mullin run will host this event that can give you all the tools you need in your fight with Crippling Anxiety.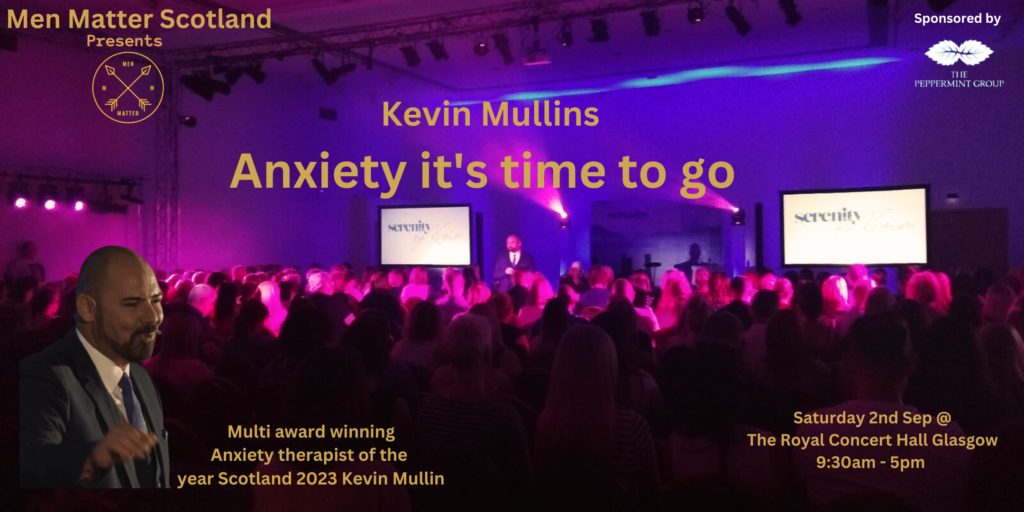 Forget what the conventional world of talk based therapy and anxiety removal are telling you.
We are not only going to do, but then show exactly how we:​
Kevin is not interested in just standing up and talking about anxiety, this event is very different and he is going to show and teach you the very things you need to defeat this crippling emotion that controls way more than it should.
This event is designed to help and not just talk about help and we promise to give you an evening that will stay with you and help you in all areas of your life when it comes to crippling Anxiety. This a day that's all about your actions and less about the words and we will show you how to deal, block and finally defeat the crippling anxiety that has haunted you for so long.
If you are wondering what it would be like to regain control of anxiety and remove the crippling feelings and thought that control you then this really will be the best thing you have done.
So today lets not please everyone around us and do something for us for once. Do something to show you and everyone around you that you are much stronger than that crippling emotion we call anxiety.
Tickets On Sale NOW
You have everything to lose by doing nothing yet nothing to lose by doing everything, this could be your everything.